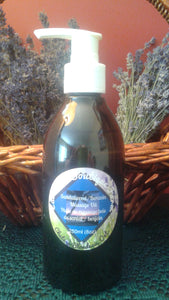 Sandalwood & Benzoin Massage Oil
Lavender Boutique Farm
Regular price $10.00 Sale
  Sandalwood essential oil has a distinctive soft, sweet, precious-wood scent. Sandalwood oil benefits include its ability to encourage mental clarity and relaxation and has an effect similar to how lavender can be calming to the body and mind.
  Benzoin essential oil is a relaxant and has a vanilla-like aroma.  It relieves anxiety, tension, nervousness, and stress by bringing the nervous system back to normal. That is why, in case of depression, it gives a feeling of uplifted mood and relaxes people in case of anxiety and stress.  When applied to the body, it kills body odor as well as the germs that cause it. It smells like vanilla and is sweet and pleasant.
  Together, the two oils combine great together and create a wonderful, relaxing, clean smell.
  Grapeseed oil, which feels incredibly non-greasy, has a high amount of linoleic acid, an essential fatty acid, which is good for oily skin. It is one of the best massage oils as it can be used for most massage therapy techniques. It also contains vitamins E, C, and D which promote moisture and help protect the skin.

To show you what a one liter size of Sandalwood/Benzoin massage oil would look like, please see Peppermint Massage oil photo and info.  One liter of Sandalwood/Benzoin massage oil available upon request...