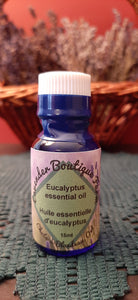 Eucalyptus essential oil
Lavender Boutique Farm
Eucalyptus oil is available as an essential oil that is used to treat a variety of common diseases and conditions including nasal congestion, asthma, and as a tick repellent.  Eucalyptus is used for its soothing effects when inhaled, for example during a cold or cough.

Eucalyptus oil, which is essentially peppermint oil, helps to aid breathing, as well as problems such as snoring.   Research suggests that eucalyptus can act as an expectorant, meaning it helps coughs by loosening phlegm, helping to break up the mucus in your respiratory system, including your sinuses and the back of your throat, factors that can cause snoring. 

If swallowed, eucalyptus oil can cause seizures.   Also, toxic to pets whether put on their skin or used in diffusers.  If you are using a diffuser in your home, the best option is to use it in an area that your pet cannot access.