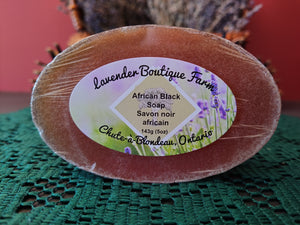 African Black soap bar
Lavender Boutique Farm
African black soap is a traditional soap that comes from West Africa,  made using natural, exotic shea butter and raw African black soap from Ghana.  SLS and SLES-free, this soap is super emollient (soft), and soothes and cleanses your skin.   African black soap is made without adding lye, which makes the texture soft and lends a more moisturizing quality.  It's also unscented, making it suitable for most skin types.  A great soap for sensitive and problem-prone skin.  Lathers really well and is super moisturizing with some vegetable glycerin.   It is made from the ash of locally harvested African plants and dried peels, which gives the soap its characteristic dark color.
• Dark brown colour
• Fantastic lather
• Helps with dry skin
• High in natural emollients
Key Ingredients:
Shea Butter
African Black Soap
Coconut Oil
Vegetable Glycerine
Glycerin is a natural emollient, a by-product of soap making, which draws moisture out of humid air to benefit the skin. It cleanses without stripping or upsetting the delicate natural pH balance necessary for soft, healthy looking skin. Even with the use of rich botanic butters, this soap rinses clean and leaves no soapy film behind.